With tomorrow's server save it will be possible again to fight Dragonking Zyrtarch in fire portal.
Posted by hexera.net team.
Dear community,
Here's another edition of the screenshot contest.
Please send your screenshots with level advance to hexeraots@gmail.com in order to participate and a chance to win one of unique mounts!

Damage Hack
(unikalny mount)

Stary Mnich
(unikalny mount)

Mr Krize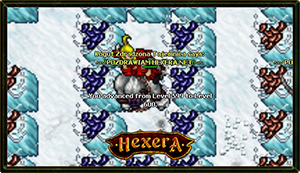 Kogut Zdradzona Tajemnica

Morfezo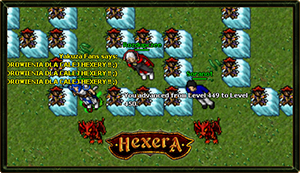 Rozdupczee

Walle

Willfried
Posted by hexera.net team.
Today Hexera is celebrating it's 3rd anniversary. Because of this we would like to thank all of you for all the years spent together. As you may know, this kind of occasions is always a pretext for the enemies of the order to try to take control over the world again. Our druids sense increased activity of the evil powers and anticipate their highest accumulation at 14:00, 15:00, 17:00, 18:00, 23:00 (CEST). We advise you to not ignore this warning and be prepared for fighting.
Of course we believe in your might, therefore we decided not to cancel the low lvl PVP event announced by Bermundo, which will take place the same day at 20:00 (CEST). More informations about this event can be found here:
low lvl PVP event
Additionally, among all online characters with at least 150 level, who are ready to fight, we will draw mounts at random afternoon hours, which will help them reach the battlegrounds faster.
Good luck!
Posted by hexera.net team.
Dear players,
Today we have added imbuing to Umbral items. From now on these items have 1 imbuable slot except for Umbral Master Bow, Umbral Master Crossbow, Umbral Master Chopper, Umbral Master Hammer, Umbral Master Slayer, which have 2 slots.

Posted by hexera.net team.
Dear players,
Today we have introduced the following changes on the server:
- Dark Torturer now correctly runs away on low hp and removes 10 shielding.
- We have added Magma Coat to Hellhound loot.
- We have added cap to Dragon Throne Kit.
- We have added Rusty Legs (rare) to Fury loot.
- It is now possible to sell Golden Figurine to jewellery NPCs.
- We have fixed the corpse of Forest Fury.

Posted by hexera.net team.